We appreciate that having a colonoscopy and/or upper endoscopy (gastroscopy) can be an unsettling or even frightening experience and that the process may bring up questions and concerns for our patients and their support person(s). We have integrated comments from prior patients with our own experiences to create a professional yet comfortable and friendly environment to welcome you. Our Endoscopy Center is located on the main (1st) floor of Gastroenterology Associates building at 209 Lilly Road NE, Suite A, separate from our clinic. Upon entering the Endoscopy Center you will be greeted by one of our courteous Scheduling Coordinators in a quiet and open reception area.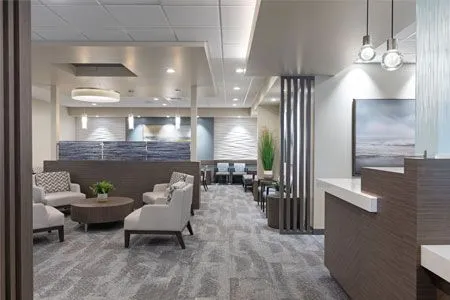 Our Scheduling Coordinator will assist you in checking in and will notify the nursing staff electronically that you've arrived. A nurse will then greet you and speak with your support person/escort about the expected time frame for your stay and other details. We value patient privacy. We aim to keep our Center's Admit/ Recovery Suite as private for every patient as is possible and for this reason, support person(s)/escort(s) are asked to make themselves comfortable in our lobby. Your support person/escort will be asked to remain in the building during your admission, procedure and recovery (some adjustments to this have been made during the COVID pandemic). There are public restrooms and a café are located near the lobby area for their use.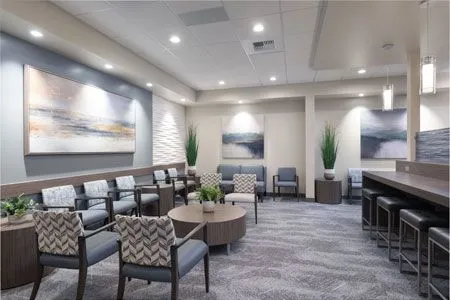 Once your support person/escort has spoken with your admission nurse, you will be escorted to the Admit/Recovery Suite. This area has fifteen patient bays, each with a privacy curtain. Our nurses are conscientiously monitoring patient needs at bedsides and from the nurse's station. Ambient music and a soft gray blue décor along with our kind and considerate staff will put you at ease. Your nurse will briefly review your health history with you at an admit desk and then escort you to your private bed area to put on a gown. Your nurse will review your planned procedure with you including what to expect, any special concerns you may have, answer your questions and place your intravenous (IV) line.
Our Center is fully equipped with four state-of-the-art Procedure Suites. After your admission, your physician will meet with you prior to sedation to review your health history, have a brief heart and lung exam and answer any last-minute questions and have you sign your procedure consent form. Your procedure is performed in a private Procedure Suite with your doctor, a CRNA, and/or a procedure nurse and possibly a technician in attendance. We have furnished the Procedure Suites with the latest equipment and monitoring devices for maximum comfort and safety. We provide procedure sedation as deemed appropriate by your procedure physician. This may be "monitored anesthesia care" – intravenous medication monitored by a CRNA inducing a deep state of sedation or "moderate sedation" - intravenous medication monitored by an RN, as directed by the physician, and given to induce a "twilight" state, with the goal of making your procedure pleasant and pain free as possible.
After your procedure you will be wheeled on your bed to the Recovery Suite where our professional licensed staff will monitor you as you recover from sedation. Under the guidance of your nurse you will progress through stages of waking up and dressing to go home over a period of about 30 minutes. During this time your physician will fax a report of your procedure to your primary care provider and discuss your procedure findings with you or with the support person/escort you've approved to receive this information. You will receive printed discharge instructions as well. Our nursing staff will review this information with you as you prepare for discharge. Your nurse will walk you to your family/escort or take you by wheelchair to your escorts car when you are ready to leave the Center.
While each patient's condition is different and the schedule may vary slightly throughout the procedure day, we suggest you plan on spending about 2-2 ½ hours in our facility. Upper endoscopy patients may have a shorter stay. This time estimate includes check in, admission, procedure and recovery periods and does not include potential delays from prolonged procedures.