Our team provides the best practice gastroenterology care to the southern Puget Sound region by focusing on our patient's experience and continually striving to improve safety, quality, accessibility, efficiency, and cost containment. Our Board-Certified physicians specialize in gastroenterology, hepatology and related endoscopy procedures.
Our Board-Certified Advanced Registered Nurse Practitioners, Certified Registered Nurse Anesthetists and Physician Assistants work closely with our physicians to provide our patients with the compassionate and evidence-based care they deserve.
Community and Patient Education
For over thirty years, our providers and teammates have been committed to regularly providing GI education to our patients, staff, community and hospital groups and local providers. Our patients are given 1:1 education and written materials during clinic and endoscopy center visits. Our website offers the ASGE patient education library as well as other educational weblinks. Our providers and staff speak on GI topics at local, regional and national conferences as well as provide education to the Providence St. Peter Hospital family practice residents and clinical staff, UW medical school students and local community groups. If you have a group that would like to hear about a particular GI topic, feel free to contact us.
Endoscopy Center
Gastroenterology Associates Endoscopy Center is a state-of-the art facility owned and operated by USP/Gastro Health and the physicians of Gastroenterology Associates, now Gastro Health - Olympia. We are a Medicare approved Ambulatory Surgery Center licensed by the State of Washington Department of Health. Our highly capable staff of physicians, CRNAs and nurses are certified in Advanced Cardiac Life Support and are dedicated to make your endoscopy experience a positive one.
The GA Endoscopy Center is located on the first (1st) floor of the building, in Suite A, to the right of the entrance
Address: 209 Lilly Road NE, Suite A, Olympia, WA 98506
Main telephone number: (360)413-8250
Map to our facility
Tour the Endoscopy Center
Gastroenterology and Hepatology Office
Our outpatient clinic provides GI specialized services and care for a wide range of GI conditions and disease. We can help you with common digestive symptoms such as heartburn/GERD, bloating, constipation, diarrhea, gas, difficulty swallowing, vomiting, abdominal pain and cramps as well as provide diagnosis, evaluation, treatment and/or surgical or other referral for more complex GI conditions and diseases such as Barrett's esophagus, colitis (Crohn's disease and ulcerative colitis), diverticulosis/diverticulitis, eosinophilic esophagitis, hepatitis/cirrhosis, gall bladder dysfunction, GI cancers, hemorrhoids, pancreatitis and ulcers. We also provide life-saving colonoscopy screening and recall procedures to assess for and remove colon polyps at our outpatient Endoscopy Center.
The GA Office is located on the second (2nd) floor of our building, in Suite B
Address: 209 Lilly Road NE, Suite B, Olympia, WA 98506
Main telephone number: (360)413-8250
Map to our facility
Hospital & Inpatient Services
Our physicians are credentialed, privileged and have admitting privileges at Olympia's Providence St. Peter Hospital. Our providers have collaborative relationships with local primary care and other specialty providers and make themselves available for hospital GI consultative and procedural services 24/7 providing inpatient, outpatient and Emergency Room GI services for the community. Every day our doctors provide high quality GI hospital care and contribute to increased patient satisfaction and decreased length of hospital stays. At Providence St. Peter Hospital we also offer more advanced therapeutic and interventional procedures such as Endoscopic Retrograde Cholangiopancreatography (ERCP) (used in diagnosing and treating many disorders of the digestive system).
Infusion Center
Our Care Center houses our outpatient Infusion Center which specializes in providing our patients with intravenous (IV) infusion therapy to treat specific GI medical conditions.
Infusion therapies offered include iron therapy such as with Injectafer, specialized treatment for Crohn's disease such as Remicade, Infliximab, Inflectra, Cimzia, Entyvio and Stelara infusions. To ensure optimal patient outcomes, a provider is in the office at all times an infusion is underway and continually available to the patient, infusion RN and clinical staff. The infusion team is highly skilled in IV placement, patient assessment and monitoring, collaborating with the onsite provider and managing side effects and/or allergic reactions.
We offer a comfortable and quiet atmosphere with dedicated staff, padded recliners, heated blankets, snacks and coffee or tea throughout your stay. Our public wi-fi is also available for patient use with your electronic device and earphones.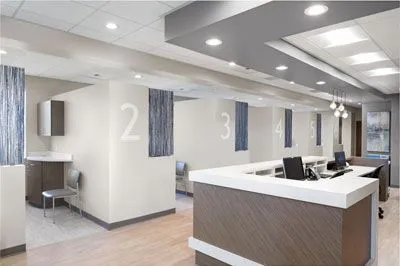 Locations
We understand that convenience is one part of a great health care experience. Our Olympia location is in central Thurston County near Providence St. Peter Hospital is easily accessible from Olympia, Lacey and Tumwater and on a major bus line. We have an efficient Care Center (clinic), outpatient Infusion Services and a Medicare approved outpatient Endoscopy Center all onsite. We believe that informed patients are better prepared to make decisions regarding their health and well-being so we've designed this website to include not only information about our services but also about GI conditions and treatments via a link to the American Society for Gastrointestinal Endoscopy (ASGE) library of patient education.
Weight Loss Management
There are many health conditions, including specific GI conditions, that are improved significantly or may even be resolved by losing excess weight and maintaining a healthy/normal weight or body mass index (BMI). The principle of excess weight gain is simple: energy intake exceeds energy spent. However, being overweight or obese is complex and the result of a set of interactions between genetic, behavioral and environmental factors. As is commonly known, weight management is not typically easy.
When your provider has recommended weight loss to achieve a normal/healthy BMI, making an informed choice about how to proceed requires consideration of your current health and your weight loss goals. Always seek the advice of your primary care provider with any questions you may have regarding a medical condition or healthcare treatment before undertaking any weight loss program.
Achieving and maintaining a normal BMI may be accomplished in a number of ways including behavior and lifestyle modifications, increased physical activity through regular exercise, decreased caloric intake based on nutrition education and healthy eating, a supervised non-surgical weight management program and/or weight loss surgery.
Regionally there are multiple options for supervised weight management programs including, but not limited to, WW (formerly Weight Watchers), Jenny Craig, 30/10 Weight Loss for Life, 20/20 Lifestyles, Nutrisystem, TOPS (Taking Pounds Off Sensibly) Club, Inc. and others. Please take the time to review your options, discuss them with your primary care provider and make an informed choice.
Working at Gastro Health - Olympia

At Gastro Health our providers and our team work side by side every day. Our physicians know they could not provide patients the high-quality GI care we are known for without the skills and dedication of their valued team members. Our team is committed to working together for you, the patient. This patient-centered care is what unites us as we blend our skills daily for the betterment of each of our patients.
We have many job opportunities including administrative, clerical and scheduling positions, specialized certified and licensed clinical positions in our office and Endoscopy Center and Advanced Practice Provider (ARNP, PA-C and CRNA) positions. We provide patient care in a friendly and fun teamwork-oriented atmosphere. We understand that employees who are encouraged to share ideas and participate in process improvement and who enjoy their work day will improve our patient's experience.
Our employees enjoy a comprehensive benefits package, competitive wages and a collaborative work environment in which they contribute to our patient's experience in a multitude of ways. If you are interested in seeking employment, please contact us. We look forward to meeting you and providing you excellent GI healthcare to improve your health.